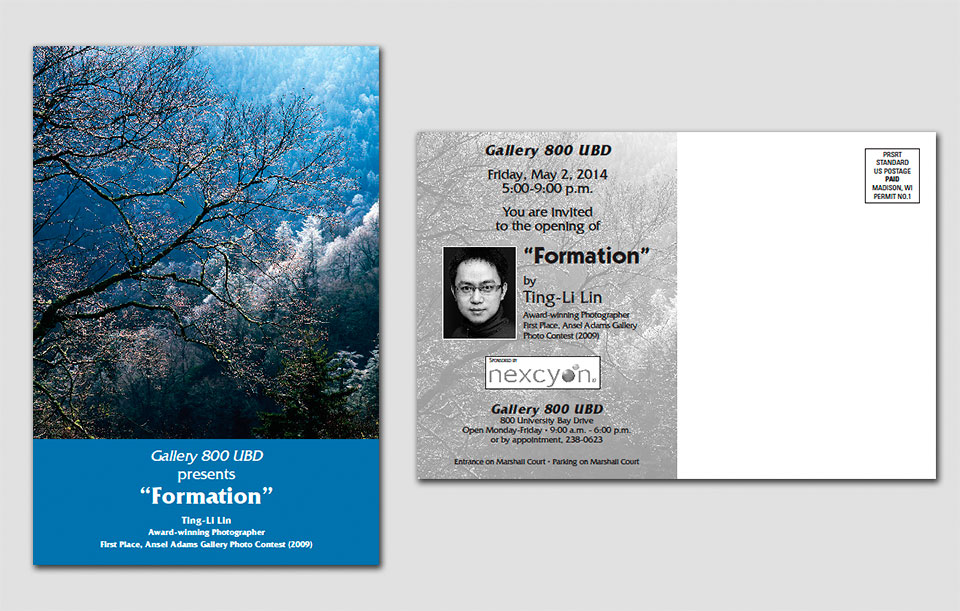 I have been preparing for my next exhibition since the beginning of this year. The curator of Gallery 800 UBD, Joyce E. Bromley, selected 30 works from some of my portfolios, and we decided to name the exhibition "Formation." Now the photographs have been printed and are being framed. Some of them are as big as 40″ by 50″. It's very exciting to see these large prints. The invitation has also been sent to a printer and should be available soon. Everything is on schedule. I am really looking forward to the opening of the exhibition on Friday, May 2nd, 2014, 5-9pm. The opening is also part of Gallery Night, an event organized by Madison Museum of Contemporary Art. Refreshment will be provided.
Another exciting news for me is that the exhibition will be sponsored by Nexcyon Pharmaceuticals, Inc. They have been very supportive of my art since the year of 2012 when I joined the company, and I really appreciate their sponsorship for this exhibition.
The exhibition will be on view from May through October, and the Gallery is open Monday – Friday, 9am – 6pm, or by appointment.
More info:
Gallery 800 UBD
800 University Bay Drive
Madison, WI 53705
Phone: (608) 238-0623